Brotherhood
Brotherhood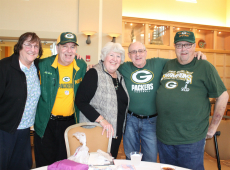 Upcoming Events
Mission Statement
For the past 80 years, Temple Brotherhood exists to exemplify Jewish values by engaging and giving back for the greater good of our Congregation and Community through fellowship, fundraising, programming and volunteerism.
About the Brotherhood
We encourage participation through camaraderie and friendship to help our Congregation and community. Use our online form to join, re-join or pay your annual membership dues.
Through fundraising activities such as; the Temple Directory, volunteering at Miller Park, Lox Box, Yom Hashoah Candles, and our Family Mini Golf Outing, we strive to raise money to support our Congregation and provide fun activities.
We are always looking for new volunteers and ideas, so please let us know if you would like to become more active within the Brotherhood.
Contact Garrett Buttenhoff for more information at gboot@sbcglobal.net.
Welcome Our 2020-21 Officers and Board
Officers:
President: Robert Jacobs
Vice-President: Richard Selby
Vice-Presient: Seth Broidy
Treasurer: Rich Lansing
Secretary: Lawrence Stein
Chaplain: Neil Hootkin
Immediate Past President: Daniel Wilkinson
Directors: Andrew Appel, Julian Dobran, Jonathan Wertz, Gary Engle, Gary Kavalar, Charles Lerner, Norm Malmon, Mitch Sandler, Dennis Selby
President's Council: Frank Berg, Robert Brazner, Garrett Buttenhoff, Robert Fono, Michael Green, William Heilbronner, Mark Holland, Robert Jacobs, Jack Keyes, Allen Lavine, Michael Levin, Jerry Plotkin, Bruce Resnick

Budget & Finance Chair: Rich Lansing

Membership Committee Chair: Mark Holland
Brewers Concession Stand
The Brotherhood has been volunteering at Miller Park for over 13 years, running a concession stand. Over this time we have raised more than $95,000. If this sounds like something that you would like to become a part of, please reach out to Mark Holland or Garrett Butenhoff for more information.
Camp Scholarships Available
Summer Camp Scholarships are available for families with children up to the twelfth grade from two separate funds. The Jack and Renee Dygola Campership and Education Fund awards scholarships to URJ camps like Olin-Sang-Ruby Union Institute. The Michael K. Fefferman Fund awards scholarships to all other accredited Jewish summer camps like Camp Interlaken. A restricted number of scholarships will be awarded because of limited funds. Applications may be found in the Lifelong Learning Office. Just call or stop in and check with one of the rabbis and an application will be happily given to you.
Brotherhood Display Case
Check out the Brotherhood Display Case on the first floor by the elevator. This is where you'll find updated activity information and see our new Brotherhood brochure. For further information, please contact the Brotherhood President.
Tue, November 24 2020
8 Kislev 5781
Featured Events
All Events
Tuesday

,

Nov

November

24

,

2020

Food for Our Soul:Parashat HaShavua (the Weekly Torah Portion) in Our Lives


Tuesday, Nov 24th

12:30p

to

1:30p




Tuesday

,

Nov

November

24

,

2020

Anshe Mitzvah


Tuesday, Nov 24th

7:00p

to

9:00p




Wednesday

,

Nov

November

25

,

2020

Interfaith Thanksgiving Service


Wednesday, Nov 25th

7:00p

to

8:00p




Friday

,

Nov

November

27

,

2020

Thanksgiving Brunch Together


Friday, Nov 27th

11:00a

to

12:00p




Friday

,

Nov

November

27

,

2020

Kabbalat Shabbat Service / Early Shabbat Worship


Friday, Nov 27th

6:15p

to

7:15p




Saturday

,

Nov

November

28

,

2020

Havdalah Together


Motzei Shabbat, Nov 28th

6:30p

to

7:00p



Tue, November 24 2020 8 Kislev 5781