Caring Committee
Caring Committee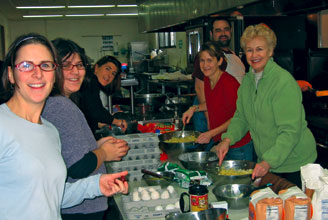 The Mitzvah Meals program exists to help congregants of Emanu-El B'ne Jeshurun who are in mourning, ill, or with other special needs. We are looking for people to prepare meals, contribute financially towards the preparation of meals, or deliver the meals.
Mitzvah Meals
The Mitzvah Meal program has been around for years. This program was designed to assist our congregants who could use a little help at difficult times in their lives. We know that CEEBJ members are willing to help out when needed. We are looking for people to make and deliver a meal to a congregant in need: for a new baby, to someone sick, for someone recovering from surgery, or for any life situation where a meal would be appreciated. You will be asked to make a meal once or twice a year. We are looking for cooks to add to our Mitzvah Meals list and those who need a little help with a meal.
If you would like to:
Help prepare meals, or
Help deliver meals, or
Contribute financially to this program
… then email us at caring@ceebj.org.
Or, if you yourself are in need of a meal, or know someone who needs a meal, be it a result of illness, death, or a new child, then call the synagogue office at 414.228.7545.
Contributions can be made directly to the synagogue in care of the Mitzvah Meals Fund.
Ozrim Committee – Delivering Plants and Cheer
The Ozrim Committee visits members of our congregation who are unable to attend services or other synagogue functions. Twice a year we visit with a plant and the opportunity for connection. We have an active cadre of volunteers but can always use more as the number of folks who we visit continues to increase. If this interests you, please notify either the synagogue office or Cindy Rasansky at (414) 380-9686 or at cindyras5@aol.com. We look forward to hearing from you.
If you know of someone in our congregational family who would benefit from a visit, please call the synagogue office at (414) 228-7545.

Sat, September 23 2023
8 Tishrei 5784
Today's CEEBJ News
► Click here to make your 2023-24 Annual Commitment.
► Refer to High Holy Days in the main menu for service times and other information.
► Support Temple Brotherhood and Women of Emanu-El with your yearly membership dues:
♦ Pay Women of Emanu-El dues​​​​​​​
► Review our CEEBJ Covid-19 Policy. Updated February 21, 2023.
Sat, September 23 2023 8 Tishrei 5784