Caring Committee
Caring Committee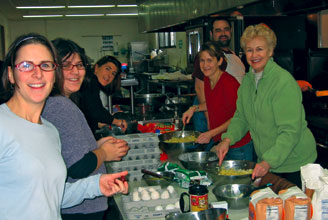 The Mitzvah Meals program exists to help congregants of Emanu-El B'ne Jeshurun who are in mourning, ill, or with other special needs. We are looking for people to prepare meals, contribute financially towards the preparation of meals, or deliver the meals.
Mitzvah Meals
The Mitzvah Meal program has been around for years. This program was designed to assist our congregants who could use a little help at difficult times in their lives. We know that CEEBJ members are willing to help out when needed. We are looking for people to make and deliver a meal to a congregant in need: for a new baby, to someone sick, for someone recovering from surgery, or for any life situation where a meal would be appreciated. You will be asked to make a meal once or twice a year. We are looking for cooks to add to our Mitzvah Meals list and those who need a little help with a meal.
If you would like to:
Help prepare meals, or
Help deliver meals, or
Contribute financially to this program
… then give us a call: Phyllis Dorf at 414-352-3548 or shelandphyl@sbcglobal.net or Florence Fishman at 414-351-0529 or flomar1234@sbcglobal.net.
Or, if you yourself are in need of a meal, or know someone who needs a meal, be it a result of illness, death, or a new child, then call Phyllis or Florence, or call Rabbi Berkson at the synagogue 414.228.7545.
Contributions can be made directly to the synagogue in care of the Mitzvah Meals Fund.
Ozrim Committee – Delivering Plants and Cheer
Volunteers from CEEBJ's Ozrim Committee will once again be visiting members of our congregational family, delivering plants and bringing holiday greetings to those members who have physical challenges that may keep them from joining the rest of the congregation for services during the Yamim Nora'im, the High Holy Days. If you would like to join our group of volunteers or if you know of someone in our congregational family who would benefit from a visit, please call the synagogue office at (414) 228-7545.

Sun, April 5 2020
11 Nisan 5780
Today's CEEBJ News
Passover with CEEBJ
►On the second night of Passover, we will have a Congregational Virtual Seder with a catered dinner that you can pick up at CEEBJ or have delivered to your home. Click here to order your meal(s).

►From Thursday's class, "Pesach Prep - Creative Charoset". Click here to view the slides with option to download.

►From Tuesday's class, "Pesach Prep - Seder Plate Prep - Part 1". Click here to view the slides with option to download.

►From Monday's class, "Pesach Prep - Songs of the Seder". Click here to view the slides with option to download.

►From Sunday's class, "Pesach Online - from Virtual Reality to Vrtual Reality"
► Click here for the recorded video of the class.
► Click here to view the slides with option to download.
*** NEW *** ► Attention graduating high school seniors: Click here to enter the Betty Siegel 12th Annual Essay Contest. Scholarships will be awared to 1st and 2nd place.
*** NEW *** ► For the latest CEEBJ information on the Coronavirus, click here or choose UPDATES in the main menu.
► A Shabbat Sing on 3-20-20 with Cantor Barash accompanied by Dan Dance. Watch the video.
► Cantor Barash sang the national anthem at the 3-4-20 Bucks game. Watch the video.

Sun, April 5 2020 11 Nisan 5780