Andrew Appel - Executive Director
Andrew Appel - Executive Director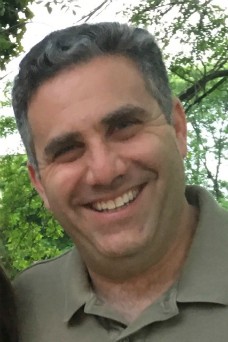 After growing up in Long Island, NY, Andrew Appel received his BA from Binghamton University, and an MBA from Northwestern University's Kellogg School of Management graduating with distinction in Marketing and Organizational Behavior. His work life has reflected his passion for customer service, having led in many roles ,including Sales Operations Manager at Hewlett-Packard and Director of Marketing at GE Healthcare. And in 2009, Andrew founded a successful dog grooming business here in Milwaukee.
Prior to becoming Executive Director, Andrew was actively involved as a CEEBJ volunteer, serving as a member of the Adult Choir and of the Music Committee, a player in many Purim spiels, a Vice President of the Temple Brotherhood, and mostly recently on the Board of Trustees as Vice President, Outreach & Engagement. Andrew is very pleased to be able to continue to serve CEEBJ, now in this professional role.
After living and working in locales as far-flung as Boise, Singapore, and San Diego, Andrew, his wife Susan Hersh and their daughter Julia returned to Milwaukee, Susan's childhood home, and her family's lifelong synagogue, Congregation Emanu-El B'ne Jeshurun. Andrew enjoys music, golf, cycling and animals of all kinds. The Appel-Hersh family lives in Shorewood with their family bulldog, Toby.
Contact Andrew at executivedirector@ceebj.org.
Thu, March 21 2019
14 Adar II 5779
Today's CEEBJ News
*** NEW *** ► At our AFS Shabbat, students from around the world asked their questions of the rabbis and cantor. Watch the video.
*** NEW *** ► Our Scholar-in-Residence this year is Ruth Messinger. She will present "Jewish Work for Global Social Justice" April 12-14. Click above for the weekend's events.
*** NEW *** ► Our 2019 Salute to Song and Spirit features Cantor Stewart Figa and our own Cantor David Barash. Secure your preferred seating with a sponsorship. Click above to RSVP and purchase your tickets.
*** NEW *** ► Help with Women of Emanu-El fundraising. Buy your Hamantashen for Purim and purchase Bayside Garden discount cards during the Winter/Spring flower sale.

*** NEW *** ► Purchase a Memorial Plaque to commemorate a loved one.
Thu, March 21 2019 14 Adar II 5779