Cantor David Barash
Cantor David Barash
Cantor David Barash has served at Congregation Emanu-El B'ne Jeshurun in Milwaukee, Wisconsin since 2001. David loves engaging congregants through Jewish music: working with adult and children's choirs; conducting our congregational band; directing our annual Purim spiels; leading participatory Shabbat, Festival, and High Holy Day services; and teaching all kinds of subjects ranging from Acrostics throughout the Ages to Moods and Modes in the Music of the High Holy Days. He is instrumental in organizing our annual Salute to Song & Spirit concerts, which have raised over $450,000 for the congregation since 2001.
Previously, David served as Cantor for nine years at Congregation Beth Shalom in Kansas City, Missouri. He studied Hazzanut at the Jewish Theological Seminary, and completed his training at its Cantors Institute in 1992, after receiving a Bachelor of Arts in Music from the University of Wisconsin – Madison in 1987.
David has created a Torahpalooza CD, sponsored by our Temple Brotherhood, and is in the process of producing another CD for the congregation.
David serves as one of three chaplains for the North Shore Fire Department. He looks forward to ride-alongs and supporting the firefighters and the community. David is happily married to Debra Gorra Barash and between them, they have 4 children, Natan and Rafi Barash, Janet (Nick) De Voe and Louise (Nick) Rasmussen; and 4 grandchildren, Wilson and Graham De Voe, and Hailey and Annabelle Rasmussen.
Contact the cantor at cantor@ceebj.org.
> View the blog of Cantor David's and Debra's 2017 trip to Israel
> Listen to selected Cantor music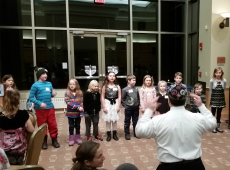 Fri, March 31 2023
9 Nisan 5783
Fri, March 31 2023 9 Nisan 5783